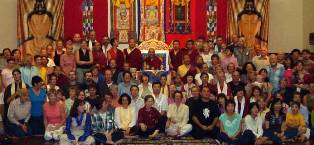 We warmly welcome you to visit and practise at Kyegu Buddhist Institute, a Tibetan Buddhist Meditation Centre - based in Sydney's lower north shore.
We are affiliated with the Kyegu Monasteries in India and Eastern Tibet and were the first Sakya Centre to be established in the new millennium in Australia, opening in June 2000.
Our aim is to hold the vision of our teacher to provide an educational institution for the Teachings and Practices of the Sakya Tradition of Tibetan Buddhism.
The Institute opens a Buddhist door for people in Australia to join, explore and experience the true teachings of the Buddha. It also provides an opportunity for the philosophically graduated students, turned teacher, to share their words and vast experiences with other Dharma students in Australia.
We are endlessly trying to fulfill the wishes of our Sakya Lineage Masters and may this benefit many mothered sentient beings.
After all, 'Kyegu' means 'Sentient beings' in Tibetan, so this is a practical name ~ and we hope that it remains practical always.
We run regular open mediation classes every Sunday morning as well as a range of philosophy classes, retreats and empowerments.
Through the wisdom of the Buddha, we can discover how to put meaning, peace and integrity into our lives with love and compassion.
Our teacher Aenpo Kyabgon Rinpoche, well-versed in English, is unfabricated and fun, and his kind and compassionate way is helpful, encouraging and inspiring.